How To Make Your Movie: An Interactive Film School
Scriptwriter, Producer, Director: Rajko Grlić
Art Director: Tom Erlewine
Head Programmer: Daric Christian Version 1.0 for Electronic Vision & Ohio University, 1998; Version 2.0 for Erlewine Design, 2004
Official website: www.howtomakeyourmovie.com
The CD-ROM set, How To Make Your Movie, has been presented at more than thirty major film festivals, including Cannes, Telluride, San Francisco, Rotterdam, Tel Aviv and Paris. It is used today in more than a hundred film schools on five continents.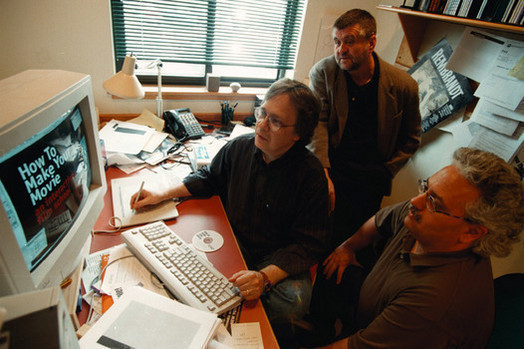 Tom Erlewine and Rajko Grlić with Dan Krivicich of Electronic Vision, 1998
Awards
| | |
| --- | --- |
| "Grand Award for Best of Show" | THE NEW YORK FESTIVAL '98 |
| "Gold World Medal for Best Educational/Instructional Multimedia" | THE NEW YORK FESTIVAL '98 |
| "Gold World Medal for Best Interface Design" | THE NEW YORK FESTIVAL '98 |
| "The Chris Award for Education" | COLUMBUS INTERNATIONAL FILM + VIDEO FESTIVAL'98 |
| "NewMedia Invision Award" | NEWMEDIA, SAN FRANCISCO |
| "CD-ROM of the Year" | PC-CHIP MAGAZINE |
| "InCredible Award" | COMPUTER CREDIBLE MAGAZINE |
Some Comments
The best, most complete and innovative guide I have ever seen, in any format. Endlessly informative and amusing. I would highly recommend it for students and professionals alike.
Walter Murch, Editor and Sound Designer - 3 time Oscar Winner
Film school in a jewel box. No kidding. Deftly arranged as a point-and-click adventure game, this is the most intelligently realized, most informative multimedia production I have ever experienced.
Hal Barwood, Lucas Arts Entertainment - Game Builder
Clever new multimedia approach to learning how movies are put together.
The New York Times
If you're a movie maverick with a mind of your own, check out How to Make Your Movie: An Interactive Film School. It's a three-CD-ROM set of indie filmmaking know-how that shows you just about everything you need to know to create a reel impact.
WIRED Magazine
How To Make Your Movie: An Interactive Film School is an extremely innovative and effective program for learning the basics of film making.
Computer Credible
"How to Make Your Movie," which had its premiere demonstration at this year's San Francisco International Film Festival, is certainly as dense and inspirational as film school should be.
RES The Magazine of Digital Filmmaking
It's warm, it's very interactive. It's easily accessible, and for sure the best we've found in the world of multimedia in the last few years.
PC Chip Magazine