Motovun Film Festival
The Motovun Film Festival was established in 1999. About a hundred films have screened every year for the past eleven years. In a town of a population of 600, around 40,000 visitors attend the festival each year.
The Festival was many times declared Cultural Event of the Year in Croatia, and in 2007 the London Guardian selected it as one of twelve places around the world that everyone must see.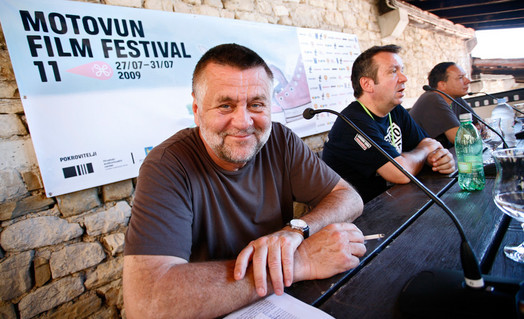 Press conference at Motovun Film Festival 2009
Critics Respond
Sundance of Europe
HOLLYWOOD REPORTER, Los Angeles
Unspooling on a remote Istrian mountaintop to capacity crowds, this high-energy summer film summit has become a favorite meeting place for regional helmers, students and artists.
VARIETY, Los Angeles
At Motovun some 10,000 kids from all over Croatia camp at the foot of the hilltop town and pack out the screenings (they also party all night, but that doesn't stop them from turning up next day).
SIGHT AND SOUND, London
Even for the most blasé film critic who has been touring the world festival circuit for decades, Motovun has something special and unique... thousands of young back-packers are ready to see films unknown in the country and then listening to rock music, singing, dancing and shouting till the wee hours; don't worry, the beer stalls remain open.
L'HUMANITE, Paris
In four years Motovun has become one of the leading and most important festivals in Southeastern Europe. The way it supports and promotes distribution of independent films is exceptionally successful, and the festival easily becomes a place where local film makers can connect and have fun with their international colleagues, exchange new ideas, gossip and make plans under the starry skies.
RAINDANCE FILM MAGAZINE, London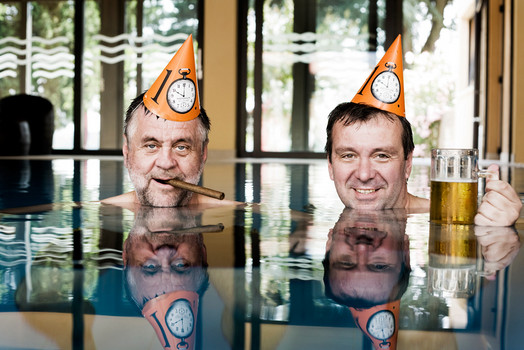 Rajko Grlić and Igor Mirković celebrating the Festival's 10th Anniversary
Film Directors And Producers About The Motovun Film Festival
This is the perfect place for a festival. I don't know who got this crazy idea, but it definitely worked. I think I'll come back...
P.T.Anderson, Director of There Will Be Blood
The view of the valley, fields and river is truly fascinating. I like the atmosphere and the energy the young visitors contribute to the festival. The camping site down below, with crowds of young people and students, adds to the town's charm... It is all like some small fairy-tale community... It feels good to be a part of something so human.
Istvan Szabo, Direcor of Mefisto
I was at Sundance, I saw the glitter of Berlin, but of all the places that films have taken me to, I like Motovun Film Festival the best.
Don Mullan, producer of Bloody Sunday
All this youth that came here from all corners of the world is the most beautiful thing I have ever seen in my life...
Zvonimir Berković, Director of Rondo
I go to Cannes every year. There, you can become famous much more than in Motovun. But on the other hand, if you want to watch films and enjoy them, come to Motovun. Here you can meet your audience, while in Cannes you only hang out with the other film makers. Motovun is the festival I enjoy the most.
Vibeke Windeløv, producer of Lars von Trier films
Motovun has a world-class thing, even though itself is, as the festival trailer shows, somewhere between the Earth and the skies. There are thousand film festivals in the world every year, so it is not easy to make a festival that has something authentic and strong in it. I think that this festival proves it with its components, its audience, guests and films. Two festivals in the world are similar to it; one is in Telluride in Colorado, a small remote gold mine city where gold was dug at the beginning of 20th century and where American film elite gathers. Second one is Northern Sun, held by the Kaurismaki brothers thousand kilometers north of Helsinki.
Dušan Makavejev, Director of WR: Mysteries of the Organism
For me, Motovun Film Festival is a small miracle that arouses my emotions, convincing me that all I have been doing and fighting for in the past fifty years has not been in vain. This phenomenal interest for films, these vivid streets of Motovun - I assure you, this is a historical moment for Croatian film.
Vatroslav Mimica, Director of Prometheus on the Visevica Island
The festival is fantastic and we love Motovun very much. I am happy about this award and about this warm welcome here in Motovun.
Stephen Daldry, Director of The Reader