Face to Face: The Photography of Lloyd E. Moore
Lloyd Moore, photographer
Rajko Grlic, editor
Tom Erlewine, designer
Ruth Bradley, language editor
Official website: www.face-to-face-photos.com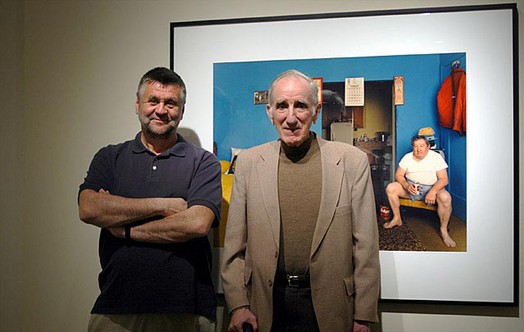 Rajko Grlić and Lloyd E. Moore, photo: Tom Erlewine
Face to Face is a remarkable book of photographs by Lloyd Moore, edited by Rajko Grlic.
Face to Face was brought to publication with the generous assistance of the Ohio University Baker Fund Award, College of Fine Arts Creative Research Award and the Office of the Vice President for Research.
Enjoy a sample gallery of pages from the book, and order your copy of Face to Face. Face to Face is also a traveling exhibition - contact for more information.
Published by Erlewine Design
47 Maplewood Avenue, Athens, Ohio 45701-1909
erlewinedesign.com
ISBN #0-9746888-1-9 (cloth)
ISBN #0-9746888-0-0 (paper)
Size: 11 inches square
129 pages with 78 photographs
Photo gallery