Three For Happiness
Za sreću je potrebno troje (1986)
Director: Rajko Grlić
Screenplay: Rajko Grlić, Dubravka Ugrešić
Cinematographer: Živko Zalar
Editor: Živka Toplak
Music: Vlatko Stefanovski & Leb i Sol
Production designer: Dinka Jeričević
Costume: Maja Galasso
Cast: Mira Furlan, Miki Manojlović, Dubravka Ostojić, Bogdan Diklić, Vanja Drach
Producer: Sulejman Kapić
Produced by: Jadran Film, Zagreb - Centar Film, Beograd, 1986
35mm - color - 101 Min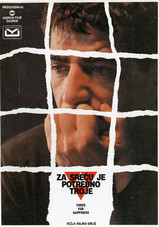 Three For Happiness is a story of a man, driven by poverty and despair, who robs a shop with a plastic toy gun. After three years in prison he is released. On his way through Zagreb he meets two completely different women who are about to determine his fate. This marks the beginning of a contemporary melodrama about three love triangles entangled by emotions and money. It is a story of a fanatic who attempts to break loose from the inevitability of one's life and times through love.
Premiered and awarded by European film critics with "FIPRESCI", "Grand Prix" and the "Peter Karsten" award for Best Script at Valencia Film Festival, Spain. It also won the "Grand Prix" at the Sallso Film Festival in Italy, and many awards from Yugoslavian film festivals. The film was distributed in 14 countries.
Critical Response
...the film 'Three for Happiness" is without a doubt a favorite of the audience...
MOSTRA, Spain
Rajko Grlić for the second time in a row triumphs at the festival...
HOJA DEL LUNES DE VALENCIA, Spain
...It could well be considered that Rajko Grlić, the author of the masterpiece film of the magnificent level, is one of the most important directors...
ALBERTOS MINICINES, Spain
...'Three's Happiness' is a sophisticated look into human relations and striving, entertaining and on-target at the same time...
VARIETY, USA