Croatia 2000 - Who Wants To Be A President
Novo novo vrijeme (2001)
Directors: Rajko Grlić and Igor Mirković
Editors: Ivana Fumić, Tomislav Pavlić, Dana Budisavljević, Vjeran Pavlinić
Camera: Mario Delić, Svebor Kranjc, Goran Legović, Igor Savatović, Alan Stanković, Slobodan Trninić, Maja Zrnić
Producers: Boris Matić, Rajko Grlić, Igor Mirković
Produced by: Motovun FF, Zagreb, 2000
35 mm - color - 103 Min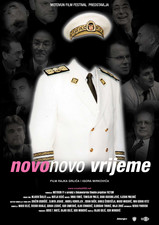 Croatia 2000 - Who Wants To Be A President is a feature-length documentary film about dramatic political events that occurred in the period between the death of Croatian president Franjo Tudjman and the victory of Stipe Mesić in the presidential elections. Incessantly following (sometimes with ten cameras) the most influential figures in Croatian political life, cameras witnessed the moments of their biggest battle, their greatest victory and crushing defeat, and days of great strain, passion and political combat.
This is, by all accounts, the most ambitious documentary project ever filmed in Croatia and the first documentary film ever distributed (very successfully) in Croatian theaters.
Croatia 2000 premiered in competition at the Amsterdam Documentary Film Festival and was shown at many festivals in Europe and the USA. It was awarded with international critic award, "FIPRESCI."
Critical Response
"Dr. Franjo Tudjman, Croatia's first post-Tito leader and the kind of crypto-royalist eminence U.S. newspapers used to describe with a word "strongman", finally expires, creating a room for the birth of real democracy. This superb documentary records the process of the birth through unprecedented access to the players. Co-directors Rajko Grlić and Igor Mirković follow all the splintered opposition parties and their candidates, revealing a primary season and general election mashed together and held at triple speed. The comedy for American audiences, of course, comes in our recognition of universality of glad handing, spin-mongering politics - and in the sadness of the pasty-faced progressive candidates complaining, 'The people want father - someone who's likable, not responsible.' (The winner, Stipe Mesic, bears more than a passing resemblance of the governor of Minnesota). The filmmakers grab some amazing material on the fly; a pseudo-Iggy Pop rocker defending his far-right benefit concert, Tudjman's minister of finance sneaking a bottle of vodka into a state function. Hardly dry and C-SPANish, Croatia 2000 is a funny and hair-rising kick."
MINNEAPOLIS NEWS, Minneapolis