Charuga
Čaruga (1991)
Director: Rajko Grlić
Screenplay: Ivan Kušan, Rajko Grlić
Cinematographer: Slobodan Trninić
Music: Goran Bregović
Editor: Andrija Zafranović
Costume: Maja Galasso
Production Designer: Zeljko Senečić
Cast: Ivo Gregurević, Davor Janjić, Ena Begović, Petar Bozović, Branka Trlin, Branislav Lečić, Petar Arsovski
Producers: Mladen Koceić, Rajko Grlić, Josip Košuta, Goran Radman
Produced by: Maestro Film, Zagreb - Viba Film, Ljubljana - HRT, Zagreb, 1991
35mm - Stereo Dolby - color - 108 Min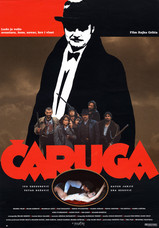 "When first planned, this spectacular film, which used 10,000 extras and over fifty locations, was to be a homage to director Grlić's favorite adventure films like The Thief of Bagdad. But reality has a way of overtaking fantasies. Charuga, Grlić's seventh feature, tells the true story of a 1920's "Robin Hood," a fanatic ex-soldier and Bolshevik who tried to bring the Revolution to Yugoslavia. He began by robbing from the rich and giving to the poor, but as with many self-styled revolutionaries, he soon began robbing from everyone and keeping it all for himself. His ruthless raids with his outlaw band through pre-WWII Croatia bear an unsettling resemblance to events occurring there now. Grlić has created a visually complex, engrossing and unsettling action-adventure movie which is also a serious political drama." - Ellen Slatkin, Denver International Film Festival
Charuga premiered in the official selection of Tokyo International Film Festival. It won two "Golden Arenas" at the Pula Film Festival, and two actors' awards at the First Croatian Film Festival.
Critical Response
There is much to admire in Grlić's ability to take on the revolution as it began in Yugoslavia by using a popular Butch Cassidy and Sundance Kid genre...
CINEASTE, New York
Grlić has created a visually complex, engrossing and unsettling action adventure movie which is also a serious political drama...
ROCKY MOUNTAIN NEWS, Denver