Bravo Maestro
(1974)
Director: Rajko Grlić
Screenplay: Rajko Grlić, Srđan Karanović
Cinematographer: Živko Zalar
Music: Brane Živković
Editor: Živka Toplak
Production designers: Dražen Juračić, Dinka Jeričevic
Costume: Maja Galasso
Cast: Rade Šerbedžija, Alexandar Berček, Božidar Boban, Mladen Budiščak, Koraljka Hrs
Producer: Sulejman Kapić
Produced by: Jadran Film, Zagreb - Croatia Film, Zagreb, 1974
35mm - color - 99 min.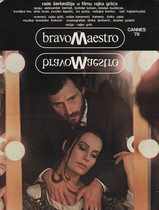 Bravo Maestro tells the story of the composer Vitomir Bezjak, a very prominent personality in the cultural and social milieux in Zagreb. His masterpiece, which has been announced for years in the press and TV is about to open in the Croatian National Theatre. At the moment when a triumph promises to crown a successful life some unexpected troubles appear and Bezjak is accused of plagiarism.
Bravo Maestro premiered in competition at the Cannes Film Festival and was shown at more than twenty festivals around the world. Greek critics selected the film as one of the "Ten Best European Films in 1978." At the Pula Film Festival the film won, among other awards, the "Big Silver Arena," the "Golden Arenas" for acting and for the director of photography. Two actors were awarded at the Nis Film Festival and the script received awards at the Vrnjacka Banja Film Festival. This film was distributed in 17 countries, including the USA by Bezubov Inc., New York.
Critical Response
...A courageous and magnificent film firmly mastered...
IMAGE ET SON, France
Rajko Grlić's film possesses all around values...
NICE-MATIN, France
...Bravo Maestro is a daring, sharp, critical film which has nothing in common with those half kitschy products so often arriving from the East...
RADIO TV LUXEMBOURG, Luxembourg
...Bravo Maestro shows modern director's style, a fast rhythm, well thought out and complete form without any signs of improvisation...
FILM A DOBA - Czech Republic
...Rajko Grlić indubitably the most interesting of new wave of Yugoslav film directors...
THE HOLLYWOOD REPORTER, USA
There is nothing derivative about Grlić's film, which reveals both a formidable command of the cinema and a wickedly distinctive sense of humor...
THE NEW ORLEANS REVIEW, USA