Border Post
Karaula (2006)
Director: Rajko Grlić
Script: Rajko Grlić and Ante Tomić (based upon the novel by Ante Tomić)
Camera: Slobodan Trninić
Editor: Andrija Zafranović
Music: Sanja Ilić
Production Designers: Goran Joksimović, Kemal Hrustanović
Costume: Sabina Buidon
Make-up: Mojca Gregoranc
Producer: Ademir Kenović
Producers: Vladimir Anastasov, Danijel Hočevar, Zoran Cvijanović, Milko Josifov, Boris Matić, Mirko Galić, Mike Downey and Sam Taylor
Produced by: Refresh Production, Sarajevo; Vertigo/Emotion film, Ljubljana; Sektor Film, Skopje; Propeler Film, Zagreb; HRT, Zagreb; Yodi, Beograd; F&ME, London; Pioneer Pictures, Budapest; NP 7, Zagreb; Eurimages - 2006
35 mm - Dolby Digital - color - 95 Min
World sales: Wild Management, Paris
Official website: www.borderpostmovie.com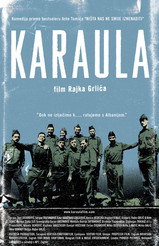 In a small border post on the Yugoslav-Albanian border, yet another generation of soldiers, suffering the usual amount of boredom, awaits the end of their service, counting days to the moment when they can take their uniforms off for good. It is the spring of 1987 and the thought never even crosses their minds that they would have to put on their uniforms once again to return to war. These are the last days of the country called Yugoslavia, yet no one realizes it. Portraying a not-so-distant past with no nostalgia and no hatred, Border Post is a comedy about people on the verge of tragedy.
Border Post premiered internationally in competition at the San Sebastian International Film Festival, Spain. It screened at more than forty international film festivals and was awarded with eleven awards including the "Grand Prix," "Best Director" and "FIPRESCI" award at Festroia, Portugal; the "Audience Award" at Trieste, Italy; and the award for "Best European Film Based On a Book" in Holland. It was produced as the first regional co-production of all the countries of former Yugoslavia, as well as Hungary, the United Kingdom and Austria - and was supported by the Council of Europe's co-production support fund, Eurimages.
Critical Response
Is it possible for all the five parts of former Yugoslavia to get involved, of their own free will, in the same project, invest their money into it and produce a work of true quality? The film Border Post proves it is possible - even though the breakup of the former homeland is the very topic of the film.
BBC, London
The multi-ethnic characters contribute to the film's keen sense of a world awkwardly poised between Tito's paternalistic socialism and Milosević's bitter ethnic wars. Their false sense of living a carefree existence, their lack of knowledge about what awaits them (though the film is peppered with ominous clues), gives a much larger dimension to the cruel final scenes, which close the film with a stomach-churning punch.
VARIETY, Los Angeles
Executed with elegance, Grlić's critique of the grave consequences of arrogant cultural racism is the foremost quality of his new film.
CINEAST, New York
Croatian director Rajko Grlić has scored a highly significant hit throughout the former Yugoslavian states with Border Post.
SCREEN, London
The script is fresh and accessible - even for folks who don't know Croatia from Cambodia.
THE NEW YORK POST, New York
With a witty script, detailed characterization and some notable performances from some of the best actors from the former Yugoslavia this is classic filmmaking at its best.
RAINDANCE, London
Border Post is an exceedingly well-crafted military satire, but of course it's mostly memorable for its delicate foreshadowing of the tremendous tragedy that awaited all these men, and would destroy their country, in the following decade.
SALON.COM
Set in 1987, in the waning years of Communist Yugoslavia, Rajko Grlić's Border Post is a profane and playful military drama about boredom, duty and the consequences of reckless lust.
NEW YORK TIMES, New York
Tender, sure handed, and nostalgic in its focus on the kind of innocent trouble that was to be replaced by massive ethnic-based bloodshed, this film, with its attractive romantic leads and Croatian director, is a find.
AM NEW YORK, New York
Particularly remarkable is Rajko Grlić's 'Border Post,' the first co-production involving all the ex-Yugoslavia republics, which harks back to a harmonious past with its tale of a unitof the multi-ethnic Yugoslav People's Army posted at the Albanian border in 1987.
THE INDEPENDENT, London
Writer-director Rajko Grlić impressively shifts his picture's tone - from the M*A*S*H- style khaki-knockabout of the early sections, through to more romantic and tragic moods in the middle and later sections. This life's-rich-tapestry approach is at once utterly 'Balkan' and yet, thanks to the terrific performances across the board, utterly universal.
TRIBUNE MAGAZINE, Oslo
Rajko Grlić's Karaula is an engrossing and often hilarious story of friendship and love with a bitter sting in its tail. A strong cast, with standout performances from Gojanovic, Hadzihafizbegovic and the brilliant Trifunovic, who delivers many of the laughs, make for a highly watchable and memorable film.
6 DEGREES FILM, London
The personal ironies of Border Post are what really distinguish the film from any number of other military black comedies.
THE NEW YORK SUN, New York